I believe that in each one of us women, there is a superhero, a wonder woman, one who can take on the world and face it all, in spite of the many challenges we have simply because, well, we are women! And I hope that with each episode you listen to, each story you read, you are inspired more and more to forget about fitting into a box and all of society's expectations, and just live your life the way you want – not how others say you should.

My guests today are two exceptional women – they are superwomen for sure, and they are also mothers, which often makes their journey more challenging. But one thing that they have learned along the way, is that staying true to yourself and who you are, whether as a mother, as an entrepreneur, as a partner, and even as your own identity as a woman, is one of the most important things you can do to live a life of happiness. I am so excited to have had them on the show, because they have an incredible journey and share their wisdom, from surviving grief to raising children, in an inspiring, funny, and moving way. You have to tune in!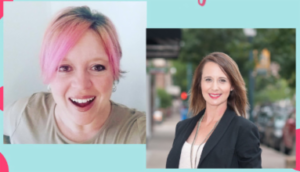 Here are some great tips from my interview with Alexa and Aubrey:
Tuesday Tips to Thrive: 
1.Understand that as a mom, you are good enough. Do not let issues around guilt inhibit your progress or prevent you from living your life your way.
2. Have a balance between work, life, and family. No matter what is going on, make sure to find a balance to take care of people who matter the most.
3. Grow your confidence and self-trust by doing what you say. The more you honor your word, the more your self-trust and confidence will grow.
Click 
HERE
for more of this inspirational checklist! 🙂
 Love and light,
 Orion
 P.S.  Enjoyed the show? If you haven't done so already click 
HERE
, and take a moment to subscribe and leave us a review in iTunes. I would really appreciate you helping me spread the love!