When's the last time you connected to your yoni?
Sounds a little naughty, I know 😉 but your yoni (the tantric word for your lady-parts) is the seat of your sacred sexuality and goddess energy. It's the birthplace of all life and if you're disconnected there, you're probably disconnected elsewhere too. It's actually very common to feel disconnected at times, we all have hurts and traumas we hold onto in our bodies. The way to remove these blocks and shift into a higher vibration begins by reconnecting to your beautiful body.
On this week's episode my amazing guest, intimacy coach and priestess Jaqueline Marie, shares her high-vibe energy, tantric teachings and self-love tips that will leave you and your yoni feeling divine. Seriously, her energy is electric and contagious; I'm still vibing from our interview! No matter what is blocking you from your own sacred, goddess nature, you're sure to be inspired and find some practices to get you feeling good in your body and reconnect you to your feminine light.
Episode 103: Attracting Love by Embodying Your Goddess Nature with Jaqueline Marie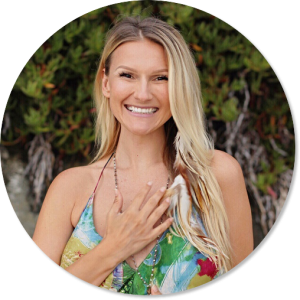 Here are some more tips from my interview with Jaqueline.
Tuesday Tips to Thrive:
1. Spread good vibrations wherever you go. Exude a contagious positive energy to attract light and happiness.
2.  Summon the energy to self-evaluate and find yourself. Think about what you've been through and take pride in what you've accomplished.
3. Love yourself for who you truly are. You may have flaws and imperfections, but you are strong and beautiful. There is a goddess inside of you waiting to be awakened.
Click here for more of this inspirational checklist. 🙂
Love,
Orion
P.S.  Enjoyed the show? If you haven't done so already click HERE, and take a moment to subscribe and leave us a review in iTunes. I would really appreciate you helping me spread the love!
P.S. #2 You're invited to my free love-coaching webinar this Thursday, February 15th at 1pm PST. Sign uphere to learn how to manifest the relationship of your dreams!