It's that time of the year…when everyone starts making their New Year resolutions, from finally opening up that savings account to losing 10 pounds.  But how are you going to make this year different? Whether it's finally getting that six pack or stop eating fast or frozen foods, on today's episode we are going to talk about how you can finally make this year THE year to reach your fitness goals. 

Rob Dionne is a personal trainer and host of the Open Sky Fitness podcast. He's my guest today and he is so inspiring when it comes to meeting fitness goals. Fitness is not as easy and glamorous as all the instagram bloggers make it seem. It's hard, its sweaty, it takes commitment and a desire to finally have the level of health your body deserves – but it's absolutely possible! 
  
E94: Reach Your Fitness Goals No Matter How Busy You Are: Rob Dionne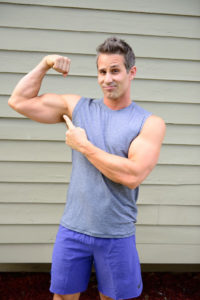 Here are some great tips from my interview with Rob:
Tuesday Tips to Thrive: 
1. Don't be discouraged by your hectic schedule. The only thing standing in the way of overcoming your busy lifestyle is you.
2. Keep a healthy diet and make good choices no matter how busy you are. Replace a bag of french fries with a bowl of fruit for a healthier snack.
3. Always practice moderation. Being healthy doesn't mean you can't have fun. It's okay to give in to your guilty pleasures in small doses.
Click HERE for more of this inspirational checklist! 🙂
Love,
Orion
P.S.  Enjoyed the show? If you haven't done so already click 
HERE
, and take a moment to subscribe and leave us a review in iTunes. I would really appreciate you helping me spread the love!