There are very few people in life where when you have a conversation with them, your whole world changes. And one of the biggest reasons this may happen is not because of what they say, but simply because they know how to listen. Listening is such a powerful tool, one that unfortunately in this digital age, many of us forget how to do – we are constantly distracted by the buzzing of our notifications. But what would happen if you were able to connect on a deeper level, by truly listening to others, and having yourself be listened to? 

Ephraim Olschewski is a life coach who works with some incredible people, and charges hundreds of thousands of dollars in doing so. He has a very special ability to listen on a deeper level, and create transformation so that you get into a zone of abundance and attract whatever you want in life.
E95: Get Into Your Abundance Zone – Ephraim Olschewski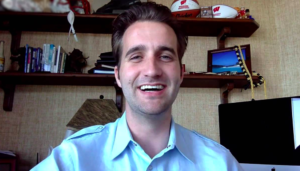 Here are some great tips from my interview with Ephraim:
Tuesday Tips to Thrive: 
1. Find your "zone" and stay in it. Your zone should be something you love to do and share with others.
2. Spend some me-time by meditating and being in a relaxed state for at least a few minutes every day.
3. Maintain a work-life balance and don't glorify the act of being busy. Prioritize and always make time for what truly matters.