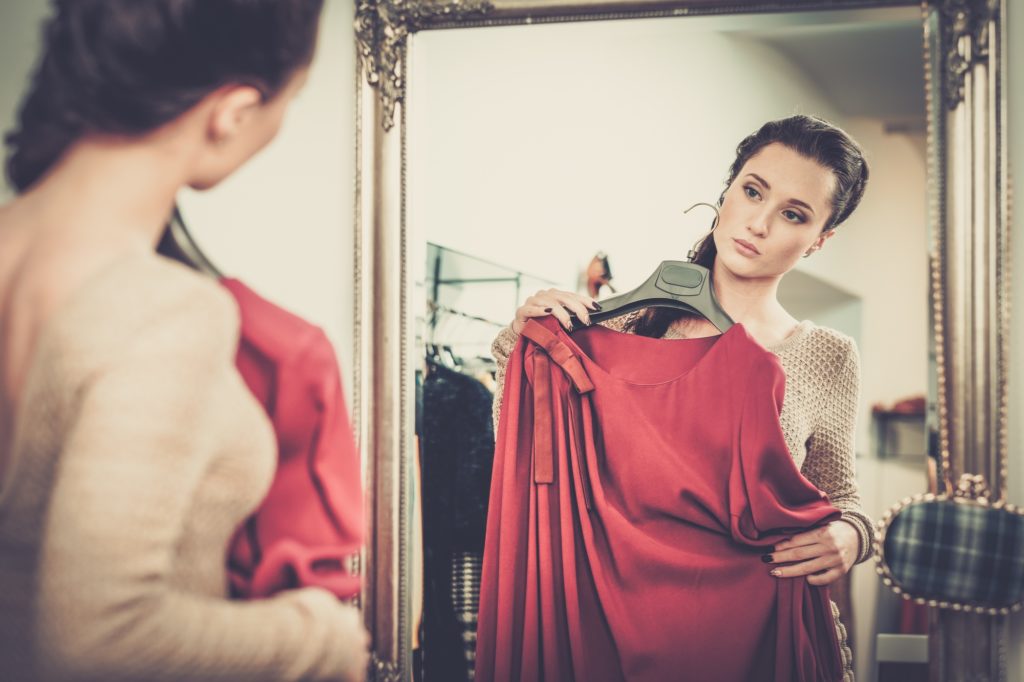 You know what they say about first impressions? People judge you within the first 3 seconds they see you! You know that feeling when your closet is full but you have nothing to wear? My closet was PACKED but some items were 18 years old and didn't really represent who I am today – they did not let me make the impression that I wanted to make when showing up in the world. So I hired an amazing stylist to help me clear out the old and step into the new, edgier and more powerful image of myself.
Lauren Messiah is a "tell it as it is" straightforward professional, and she callously sifted through the clothing in my closet. She mercilessly tossed out the pieces in there that were not aligned with the person I wanted to be in the world – no matter how attached I was to them. More than 60% of my old wardrobe had to go! (With my consent of course…). Saying goodbye to some of my favorite clothing items was difficult to do, but in all honesty there was no space for them in my life.
Now, my new wardrobe is super chic and totally me. Most importantly, I feel so good wearing these new clothes. This was one of the most difficult yet most empowering self care acts I have done for myself! Plus, the process also helped me get more clarity around my brand and my message that I want to share with the world.
A closet cleanse can be an eye opener for you too. So I asked Lauren to give you some tips so you can show up in the world like the rockstar that you are!
These are Lauren's Ruthless Yet Necessary Tips to Cleanse Your Wardrobe for New You:
1.) Ill-Fitting Clothing
When something doesn't fit quite right, it's super noticeable, mainly to yourself. If it's too small, you end up feeling uncomfortable, which negatively affects your body language and how people perceive you. Not only that, you end up looking bigger than you are! So the high you get from fitting into a size two even though you're a size four, quickly wears off as you realize it actually makes you look like a size six. Lauren calls it "sausage casing syndrome".
Alternatively, if you are wearing something that is too big because you are attempting to "hide" your flaws, you end up again looking bigger than you are. Either way, if it doesn't fit, either get it tailored or let it go.
2.) Items That Aren't "You."
We all fall into this trap: you see something that looks fabulous on another person (a celebrity, a model, a friend) and you think, "If you wear it too I'll look as good as they do."
Wrong.
If an article of clothing isn't congruent with your personal style, you not only look weird – you will stop wearing that piece after one wear. Not wearing your clothes = wasted money. Get in touch with your style, and don't try to impersonate someone else.
3.) Expensive Items You Don't Wear (but can't get rid of because they were expensive)
My stylist told me that she has cleansed hundreds of closets and saw this happen 99% of the time. A client has an expensive designer piece in their closet that is worth gushing over but they confess they never wear it (they say it doesn't fit, looks horrible on, etc.)
So why the heck are they keeping it?! The pain of getting rid of something you've invested in is so difficult to do. Letting go of that item is like admitting defeat AND wasting money. Well, guess what? Not wearing it is also a waste of money. So either donate it, consign it, or give it to a friend – just get it out of your closet. You don't need that dress reminding you of your mistake.
4.) Items from Your Ex
It could be a gift, an old t- shirt you wear to bed. I don't care what it is, items from you ex's need to go! Relationships are tough to get over (even when they end for a good reason), and hanging on to relationship souvenirs – not helping. Say goodbye to those memories and allow room for gifts from Mr. Right to enter into your closet.
5.) Anything That Doesn't Represent Where You Are In Life NOW
Has this ever happened to you? You look inside your closet and realize your last wardrobe update was ten years ago and you are rocking the same sweater you wore in your coffee-fetching days. This is why I booked a stylist.
If you are still rocking the same wardrobe from when you were coming up the ranks in your career, or when you were single, and now you're married, or whatever the case may be, It is time to level up! Your wardrobe should represent who you are now, and I'd even go as far as to say to where you want to be in the future. Don't let your wardrobe live in the past because it could be holding you back.
There you have it. If you ever find these 5 types of items in your closet, do let me know what you've decided to do with them. I bet that next time you look at your closet, you can see things differently. Cleansing can give you clarity. Taking action in improving your wardrobe doesn't have to be expensive. From now on, only shop for items that truly bring you joy. Even if it's the most amazing sale, ask yourself "does this item bring me joy?". And if the answer is no, leave it behind. It will impact the way you see yourself.
If you enjoyed this article, comment below and share your wardrobe stories & secrets with me! 🙂