Mission #60
On Board: Cami Baker
Mission: Networking Secrets
The Co-Pilot: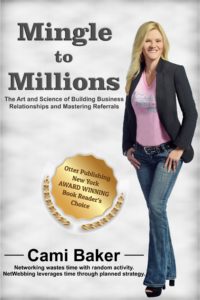 Today's guest, the furiously entrepreneurial Cami Baker, is an international speaker who has given over a thousand presentations to audiences of up to 30,000 people. Her keynote, Mingle to Millions: The Art and Science of Building Business Relationships and Mastering Referrals, shares a name with her new video book. Cami has been featured on HGTV, as a judge on the Celebrity Apprentice, and in Success From Home Magazine.
First and foremost, Cami is a networking star. She knows what it takes to make lasting contacts in almost any social setting, and she's here to share how she does it. Throughout this conversation, she offers strategies and tips that can transform your networking skills and opportunities. It's important to note that she emphasizes making genuine human connections rather than thinking only in terms of the bottom line (though her advice will absolutely help you convert contacts into sales and money too!).
Connect With Cami:
camibaker.com
Cami Baker on Facebook
Cami Baker on LinkedIn
@camibaker on Twitter
Cami Baker on YouTube
The Mission Log:
[02:24] – How did Cami come up with her response to being asked how she's doing ("I'm fabulous, fierce, and on fire!")?
[03:47] – Cami talks about how she became a professional networker who teaches others to network. In her answer, she mentions her new book Mingle to Millions: The Art and Science of Building Business Relationships and Mastering Referrals. She also goes into some depth about her background.
[07:51] – Orion shares her own experience with not being a natural entrepreneur.
[09:55] – What does Cami do to show up naturally and build rapport immediately in a networking situation, especially when everyone around is putting up a facade to show themselves as the best?
[14:13] – Orion reveals that she sometimes experiences feelings of inferiority when she's surrounded by highly successful people.
[16:56] – Cami responds to Orion's discussion about feeling inferior around certain people or under certain circumstances. She offers a story about Ashton Kutcher.
[20:53] – How do you get over feeling pressure to make a good impression?
[23:17] – Cami talks about giving, helping and sharing, offering some concrete tips and suggestions for how to use these techniques in your networking attempts.
[25:41] – Upon seeing someone for the first time in a busy room, how do you approach them? Cami tells a story that reveals the power of associating yourself with the right people.
[30:45] – Cami recommends going straight to the big dog in the room and introducing yourself. Everybody is watching everybody, and this positions you positively.
[32:44] – Another of Cami's tips is to let other people talk first, as she explains here. She also advises strongly against simply asking "what do you do?", and offers advice on what to do next time someone asks you that question.
[38:58] – How do you take it from the networking stage and into the real world? Orion offers herself up as an example of someone who struggles with the follow-up part.
[43:18] – Communication and rapport-building isn't taught in school, Cami points out.
[46:58] – Cami did something really impressive with Orion, as we learn here. Cami then talks about her program: Up to 30 Highly Qualified Leads in 30 Days with as little as 30 Minutes a Day!
[50:18] – Orion brings up the topic of introverts and extroverts, and why she finds the duality problematic. Cami agrees that putting ourselves in boxes is limiting.
[53:12] – What are Cami's three tips to living a stellar life? 1. If you want to step into who you want to be, change your playgrounds and your playmates. 2. Feed your mind by making deliberate choices about what you read and listen to. 3. If you have to choose between the two, be ignorance on fire instead of knowledge on ice.
Links and Resources:
camibaker.com
mingletomillions.com
Cami Baker on Facebook
Cami Baker on LinkedIn
@camibaker on Twitter
Cami Baker on YouTube
Mingle to Millions: The Art and Science of Building Business Relationships and Mastering Referrals
Sage Summit
Ashton Kutcher
Up to 30 Highly Qualified Leads in 30 Days with as little as 30 Minutes a Day!
Darren Hardy